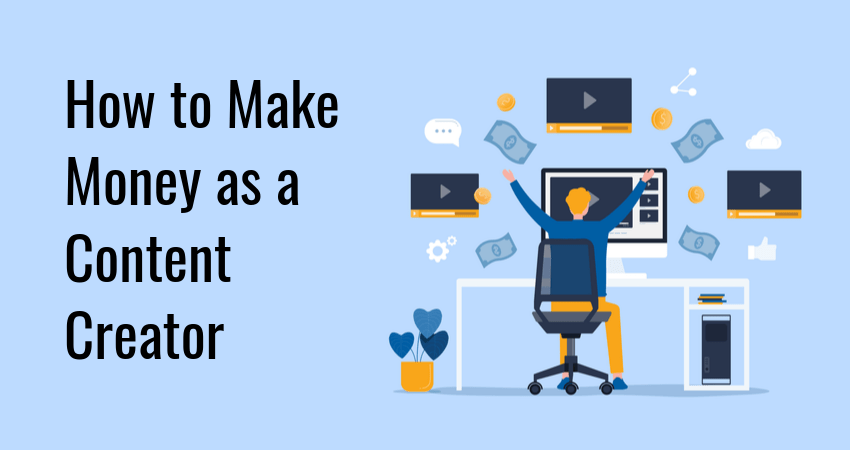 How to Make Money as a Content Creator
If you want to make money as a content creator, there are many options at your disposal.
Some involve selling your content directly to consumers. Others rely on support from businesses with a stake in the content industry. There are even methods that involve financial speculation.
In the remainder of this piece, we will walk you through 13 monetization strategies you can use to generate income as a content creator.
How Content Creators Make Money – 13 Examples
When it comes to content monetization, there is no one-size-fits-all approach.
Some content creators like to paywall their content; others prefer to sustain themselves through donations. Some are willing to work with businesses to create sponsored content; others like to maintain their creative freedom and do everything themselves.
In practice, some forms of monetization work better with certain kinds of content than with others. The best way for you to make money as a content creator will depend on your background and skills as a content creator.
1. Charge for Premium Content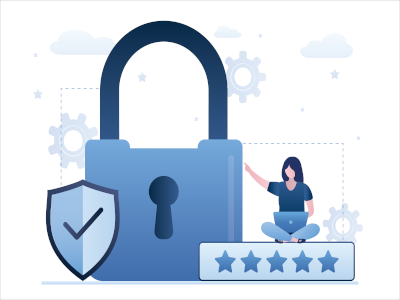 Premium content is a monetization strategy based on the idea of paywalling. The strategy works by offering some content for free and gating off the rest behind a paywall. Supporters can then choose to pay a one-time fee to unlock individual items or subscribe on a monthly basis to gain permanent access to all premium content.
Premium content comes in a variety of forms, including:
Early access content – users pay for access to content before it's officially released.
Bonus content – users pay for access to extra bits of content, including unused material, early versions, leftovers from editing, etc.
Sequel content – users pay for access to parts 2, 3, 4, etc., in a content series.
Selling premium content has become standard practice thanks to the rise of content monetization platforms. Here are the top choices to consider:
Patreon gives creators the option to section off parts of their content behind a premium paywall. After subscribing to the premium tier, patrons gain access to patron-only content, including creator chats, collaborations, exclusive merchandise, and other rewards.
Glimpse is a new content monetization platform that offers a variety of ways for monetizing premium content. You can sell access to private live streams, participate in private chat, sell access to private gaming servers, and more.
---
Learn everything you need to know about video game monetization and mobile game monetization.
---
2. Set up a Donation Box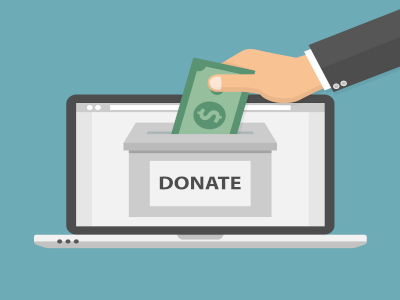 Sometimes the best way to earn money as a content creator is by giving it away for free. If you offer well-researched, well-made content without asking for anything in return, you will earn sympathy from your followers. As a result, some of these followers will want to support your work financially. All you have to do then is give them a convenient way to donate money.
The donation model has been successfully leveraged by platforms such as Kickstarter, Patreon, Ko-Fi, and Glimpse. These platforms allow users to donate directly to content creators and support their work either through one-time donations or recurring payments.
Donations are best suited for casual content creators, podcasters, and streamers. The key to leveraging donations as a monetization model is to keep your content production costs low while maintaining a high standard of quality and releasing content frequently.
Podcasts are a good example of content you can monetize effectively through donations. They cost almost nothing to produce, they can be released regularly, and they offer great value to listeners, giving them a good incentive to donate.
3. Enter a Sponsorship Deal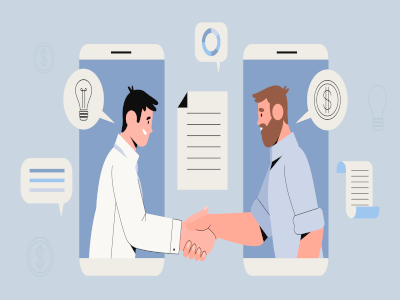 In addition to earning money by selling content, content creators can also perform valuable services for businesses and other clients. The most common practice is to create sponsored content.
Sponsored content is simply content that fulfills an additional goal – the promotion of a brand, a product, or a service. Some sponsored content is devoted entirely to promotion, such as reviewing products created by the sponsor. Other sponsors will only request a shout-out or a short segment mentioning their product or service. If you plan on doing sponsored content, make sure to specify all the details in a formal sponsorship agreement with the sponsor.
Sponsored content is best suited for new content creators. It's difficult to earn money as a content creator if you're just getting started and don't have a huge portfolio or a large enough audience. Doing sponsored content will help you work on your skills as a content creator, earn money to buy better equipment, and acquire critical early followers.
TikTok Sponsorships is TikTok's feature where brands pay influencers to promote their products and services.
YouTube BrandConnect is YouTube's influencer platform. Use it to arrange brand deals and partnerships directly within the YouTube ecosystem.
Twitch Creator Camp provides a system for creating partnerships between Twitch content streamers and sponsor companies. By signing up for the system, content creators can find business partners who want to promote their products and services.
---
Check out our post on content monetization trends to stay up-to-date on how to earn money as a content creator.
---
​4. Work as an Influencer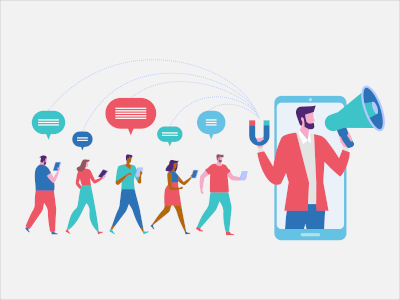 Another way to leverage your position as a content creator is to act as an influencer for brands, businesses, and other content creators. Being an influencer is a more informal way of doing sponsored content. You get paid to sponsor products but are given more flexibility with how you do the promotion. The goal is to raise brand awareness for the clients rather than generate sales directly.
Acting as an influencer is best suited for social media content creators. Influencing is often a numbers game. The more followers you have, the greater your reach is, and reach is something clients are looking for. Content made by social media content creators also tends to go viral, which further increases your value to sponsors.
Instagram is the go-to platform if you want to become an influencer. Upload high-fidelity images, use the appropriate hashtags, and watch as your subscriber count grows.
TikTok is the ideal platform for video content creators that want to become influencers. It is best for sharing short-form video content, usually set to the tune of popular songs – think fun, catchy music-video style content. Bear in mind that the average TikTok user is under 35, so adjust your content accordingly to reach this demographic.
Twitter is another platform where you can become an influencer. The best way to gain followers is to comment on relevant current events, practicing your powers of persuasion.
YouTube is the best platform for influencers with an existing library of video content. All it takes to become a YouTube influencer is to start actively promoting your channel by inviting viewers to share, like, and subscribe.
5. Monetize Through Ads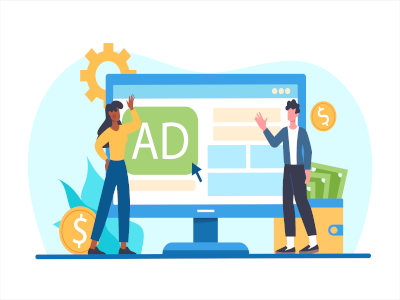 Platforms such as YouTube, Twitch, Facebook Live, and others allow you to easily monetize your content through ads. Every time someone clicks an ad in one of your videos, you get a small commission. These commissions add up over time, earning you passive income.
The difficulty with making money with ads is that you need to have a significant number of followers to make it work is as a revenue stream.
Making money through ads is best suited for streamers. If you regularly stream content that has wide appeal, you will eventually hit a point where you can earn a living through ads. But getting there will take time.
---
If you are an up-and-coming streamer and want to earn money off of your streams, check out our post 10 Live Streams Monetization Methods.
---
6. Affiliate Programs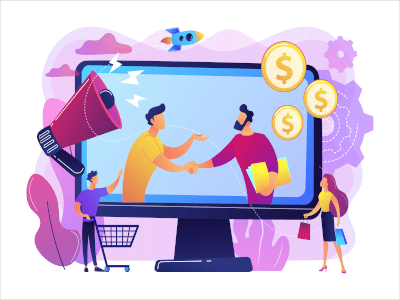 Affiliate programs are a monetization strategy that works on the basis of third-party sponsorships. First, content creators sign up for an affiliate program with a provider such as Amazon. Then they introduce special affiliate links in their content. By following the links, followers are redirected to product landing pages. The creators receive a portion of the income from purchases made at the affiliate provider's website. This monetization strategy is currently a favorite among content creators as it is less intrusive than sponsor-based monetization strategies.
7. Create and Sell NFTs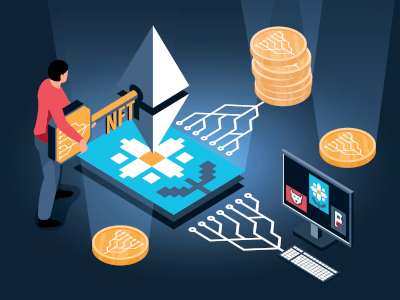 NFTs are blockchain-based technology for selling proofs of ownership for digital items such as images, music, collectibles, and in-game items. These digital certificates are then sold via the blockchain. The value of NFTs is highly volatile, which means there is the possibility to make massive gains through trading. As a content creator, making NFTs can therefore be a lucrative proposal.
---
Learn more about NFTs in gaming by reading our article NFTs in Gaming: How Do They Work?
---
8. Public Appearances
Once you gain traction with your content online, you can start making public appearances at events relevant to your niche. Event organizers will offer to share a portion of the ticket fees, and you can also sell your merchandise to attendees. Sometimes there are competitions hosted at such events, with cash prizes being offered to the best content creators. This is another potential source of income.
9. Syndicate Your Content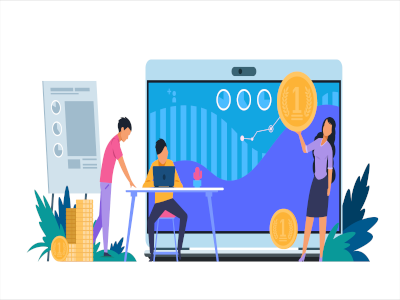 Traditional forms of content, such as films, TV series, cartoons, etc., still command a high price on the market. If you have experience producing this kind of content, you can earn money by selling it to content syndication networks, giving them exclusive rights to use and distribute your content.
Before you can apply for content syndication, you have to build up a portfolio. Ideally, your content should follow a common thread or theme, with episodes of roughly equal length and structure.
Making money with syndicated content is best suited for animators and filmmakers who are experienced at making content in a serialized format.
10. Work as a Consultant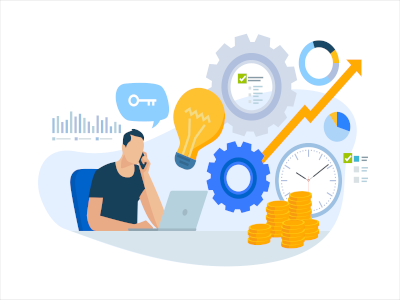 The benefits of doing content research extend beyond content creation itself. You can also make money by using what you've learned to act as a consultant. Admittedly, this is a niche that's difficult to get into due to the level of expert knowledge required, but it is possible.
For instance, if you're a video game speedrunner, you are likely to have specialist knowledge on how certain games and game mechanics work. There are many cases where game developers have reached out to speedrunners to hear their opinions regarding a game they're making to make it more speedrunner-friendly. Sometimes, speedrunners even get hired as level designers, developers, or QA testers.
Making money through consulting is best suited for experts on niche topics. If you have a skill shared by a few and are able to produce content with it, you are eligible to be a consultant.
The best way to become a consultant is to start offering your services on your website or blog. Be sure to include a contact form, a pricing guide, testimonials from previous clients, and certificates that prove your expertise on the subject matter in question.
---
Learn everything you need to know about video monetization and how to monetize your videos.
---
11. Sell Content Directly to Customers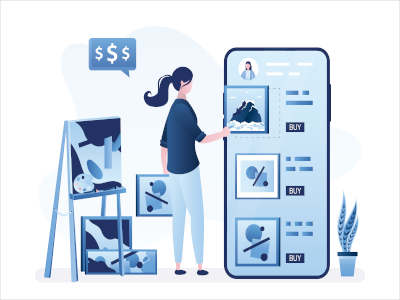 The most obvious way to make money as a content creator is to sell directly to customers. This way, you get to keep most of your earnings. Once you agree on a price, all you have to do is send the finished product to the customer.
Selling content directly to customers is best suited to artists. Art has lasting value, and it is easy to distribute online through websites, platforms, p2p sharing, and even email. This means illustrators, animators, musicians, and other digital artists can earn money simply by producing content. Established artists can choose to sell their existing work, while newcomers will often have to accept art commissions.
Let's now examine how content creators from different niches can best monetize through direct sales.
Selling Arts & Crafts
There are a couple of ways to sell your art and other handmade products online, but the most popular way is through an online marketplace. Here are some options:
Etsy allows you to list your art and craft for sale in exchange for a fee ($0.20). Each listing is active for a maximum of 4 months, or until someone buys the product. You can set the price to whatever you want, but 6.5% of your earnings go to Etsy.
Amazon has had a dedicated section for selling original art since 2013. You can sell paintings, drawings, watercolors, photos, and prints, but interestingly not sculptures and other 3D art. The listings are free, but Amazon takes a 15% cut for each sale.
Patreon doesn't allow you to directly sell individual art pieces. Instead, art fans can subscribe to your Patreon channel to gain access to your work as it comes out. However, you can create higher value subscription tiers, which can come with individual art pieces as special rewards.
Selling Merchandise
If you have merchandise you sell in addition to your content, there are several options to consider:
Sell merchandise directly on your blog or website. Use plugins such as Shopify and WooCommerce to transform your website into a digital storefront.
Sell on social media, either through the Facebook Marketplace or Instagram Shopping.
Sell directly to fans, when you attend conventions such as PAX, Dragon Con, Comic-Con, or other live events.
Selling Your Own Product
Once you have enough followers, you can kick-start your own product line to earn additional income. This strategy is highly dependent on your content niche. If you're in the beauty business, launching your own cosmetics line is a natural fit. If you're a gaming content creator, selling custom headphones, joysticks, or mousepads can prove lucrative.
---
Learn everything you need to know about video game monetization.
---
12. Sell Content to Stock Content Websites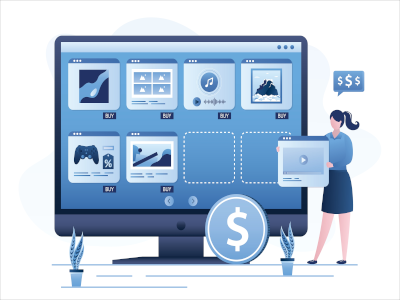 Another way to make money as a content creator is to let others do the selling and distribution. This approach lets you focus on creating content while a third party handles the financial aspect.
Stock content websites are a typical example of this monetization model. The creator produces content according to specifications set by the website in exchange for an upfront fee and/or a percentage of sales. This approach limits what you can post online, but it also means you don't have to worry about trying to appeal to individual customers.
Selling content to content resellers is best suited for photographers, illustrators, and designers. Stock photos, illustrations, and designs are most often used by businesses in need of ready-made images. Stock content might be tedious to produce, but the fact that you can sell it more than once means it can be a good source of recurring revenue for content creators.
Here is a list of stock asset websites where you can sell your content:
Shutterstock is one of the biggest platforms for stock content. As a Shutterstock contributor, you can earn a percentage of the fee Shutterstock receives for licensing your content. There are six separate earnings levels, from 15% to 40%.
Pond5 is a popular stock music website. Once your work has been uploaded and approved, you can set your own price and earn 50% from each sale.
GameDev Market is a marketplace for selling video game assets, including sounds, images, 3D models, pixel art, etc. Contributors get to keep 70% of the profit.
Pexels is a stock image website that provides free images. It has no fixed fees for contributors. Instead, users donate to individual content creators after downloading their work.
Getty Images is on the higher end of stock photography sites. The rates creators can earn from photos licensed through Getty Images start at 20% and can reach as high as 45%.
13. Sell Content to Online Learning Platforms
A more specialized way of making money with content is through online learning platforms. In contrast to stock content websites, online learning platforms give content creators the opportunity to make a name for themselves and develop their own brand.
Online learning content often has to fulfill higher standards than other forms of content. But this also means you can charge more. Knowledge is in high demand, especially knowledge that can help people learn a skill, find a job, or solve a problem.
Producing content for online learning platforms is best suited for academics, scholars, and teachers. Instead of confining yourself to producing content for a limited audience within the confines of a school or university, you can make money by sharing your knowledge with a global audience.
Udemy is a top online learning platform. You need to become a premium instructor to sell courses on Udemy. Udemy takes a 3% revenue share on course sales made through instructor coupons or course referral links and 63% on all other course sales.
Skillshare is a platform where photographers, bloggers, musicians, and other creatives can share their skills. Skillshare pays instructors $10 for premium membership referrals and royalties based on the number of minutes watched in a premium class each month.
Teachable is an online learning platform for independent instructors who want to develop a large student audience. The free plan includes unlimited students and courses, with transaction fees of $1 + 10% per transaction. Paid plans start at $29 per month for the Basic plan, which includes a custom domain, email marketing, coupon codes, drip course content, and a 5% transaction fee.
Thinkific provides a full-featured course software solution to create, deliver, sell online courses. When you sign up for Thinkific with a free account, you get to upload one course for free and unlock features such as student progress tracking, quizzes, built-in content creation tools, and more. You can also sign up for the Basic plan at $39/ per month to access more features, including unlimited courses and students, a custom domain, and drip content.
Podia is any easy-to-use online learning platform built with teachers in mind. Features include pre-launch courses, coupons, sales pages, webinars hosting, affiliate programs, and integration with Facebook groups. The Mover plan costs $39 per month and provides unlimited access to all features and zero transaction fees.
Conclusion
Learning how to monetize your work is one of the main challenges of being a content creator. The same approach won't work for everyone, but if you try some of the methods outlined above, you'll eventually figure out what works for your unique set of skills.
---

Glimpse makes it easy for you to sell access to your Minecraft, Steam, Terraria, Rust, 7 Days to Die, Starbound, and most other gaming servers. Using our esports platform, you can connect your server directly to the platform and enable access to it within a sponsorship level.
Sell access to your server within sponsorships
Whitelist specific users for your gaming server
Use webhooks to connect your server in several simple clicks
Glimpse's monetization system charges 0% commission so you get 100% of your earnings
---