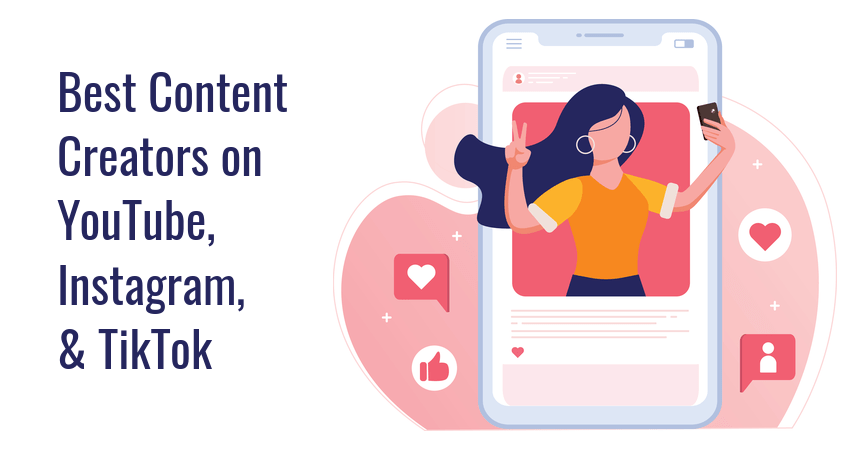 Best Content Creators on YouTube, Instagram & TikTok
Here is our list of the best content creators on YouTube, Instagram, and TikTok to watch in 2022. Check them out and get inspired to start your career as a content creator.
Best Content Creators on YouTube
1. PewDiePie
PewDiePie (real name Felix Arvid Ulf Kjellberg) is the number one content creator on YouTube. Despite bad publicity due to some controversial videos he published, his channel still has over 111 million subscribers. Most of his videos follow a straightforward formula: playing horror games and reacting wildly to what's happening on the screen.
2. KondZilla
KondZilla (real name Konrad Dantas) is one of the biggest YouTube content creators in Brazil. KondZilla is a director and screenwriter. He has produced over 1,000 music videos, averaging about 60,000 views per video. His channel has over 66 million subscribers.
3. MrBeast
MrBeast (real name Jimmy Donaldson) is the owner of several YouTube channels, the most popular of which has over 88 million subscribers. In 2017, MrBeast made a video where he counted up to 100,000. Strangely enough, this was the video that made him a YouTube superstar. He often shares videos where he donates money to causes, going as far as donating 100 cars at one point.
4. Dude Perfect
Dude Perfect is a team of content creators (Tyler Toney, Cody Jones, Garrett Hilbert, Coby Cotton, and Cory Cotton) who make entertainment videos. Their content niche is trick shots, which appeals to different demographics. Their YouTube channel has 57 million subscribers, and they run a successful merch store with many cool items on sale.
---
Learn about different ways you can make money as a content creator.
---
5. Fernanfloo
Fernanfloo (real name Luis Fernando Flores Alvarado) is a content creator from El Salvador. Most of his videos cover gaming, vlogging, and comedy. His claim to fame was a Star Wars parody video featuring dogs fighting as Jedi. Lately, he's been playing a lot of GTA 5, which gained him even more followers.
6. JuegaGerman
JuegaGerman (real name Germán Alejandro Garmendia Aranis) is a gaming content creator from Spain. He became popular by live-streaming Slender, a popular horror game from several years back. This garnered him almost 46 million subscribers. Nowadays, he plays popular games such as Fortnite, Five Nights at Freddy's, and Super Mario Galaxy.
7. Whinderssonnunes
Whinderssonnunes (real name Whindersson Nunes Batista) is a Brazilian comedian and YouTube content creator. He produces music parody videos and comedy vlogs, earning almost 2.3 million viewers on average per video. His channel has over 43 million subscribers. His most popular video is a parody of Adele's song Hello, which was viewed over 75 million times.
8. elrubiusOMG
ElrubiusOMG (real name Rubén Doblas Gundersen) is a Spanish-Norwegian YouTube gaming content creator. He got his start in the world of YouTube as a Skyrim streamer, but his channel was later flagged for copyright infringement. Lately, he's been streaming on Twitch as a result of a sponsorship deal he signed.
9. A4
A4 (real name Vlad Bumaga) is a YouTube vlogger from Belarus. He produces comedy content, including pranks, skits, sketches, and challenge videos. He became infamous after stealing thumbnails from videos by content creators MrBeast and JustDustin. At the time of writing, his YouTube channel has amassed almost 38 million subscribers.
10. VEGETTA777
VEGETTA777 (real name Samuel de Luque) is one of the most popular Minecraft streamers on YouTube. His content usually involves him commenting on various topics while playing Minecraft, Garry's Mod, and Saint's Row 3. His videos typically belong to long arcs, structured almost like movies. He has over 32 million YouTube subscribers.
Best Content Creators on Instagram
11. Karen X
Karen X is an award-winning Instagram content creator. Her channel has over 500 million views. She collaborates with world-renowned brands such as Apple, LG, Gucci, Adobe, and others. She became popular by inventing the so-called donut selfie, filmed by moving the phone in a circular motion around yourself.
12. Julian Bass
Julian Bass is a student of Georgia State University. He is a huge fan of superhero movies and one of Instagram's most popular comic book influencers. He is completely self-taught and has amazing visual editing skills. When one of his creations went viral, he even caught the attention of Hollywood giants Disney and George Lucas' Industrial Light & Magic special effects studio. His career is clearly on an upward trajectory.
13. Kevin Parry
Kevin Parry is a stop-motion animator and video editor with over 1 million subscribers on Instagram. He makes videos based on emojis, and his skills have been showcased in movies such as Boxtrolls, Kubo, and the Missing Link. He has even developed his own stop-motion course for fans interested in animation and movie making.
14. Hermon & Heroda
Hermon and Heroda are twins who both went deaf at a young age. This hasn't stopped them from making it big on Instagram. They are successful fashion bloggers inspired by ideas of solidarity and social justice. They remodel affordable traditional Eritrean textiles to create urban outfits for the modern age. They recently signed a partnership deal with the disability-friendly fashion brand Invisalign UK. They have also been featured in Vogue.
15. Olivier Wong
Olivier Wong is a travel photographer with more than 800,000 followers on Instagram. His channel is devoted entirely to showcasing his amazing photos from trips to Athens, Abu Dhabi, Dubai, and other places across the globe. His unique photographic style involves a subtle play of light, shade, colors, and backgrounds.
16. Amanda Cerny
Amanda Cerny is a so-called Instagram witch, and her channel has millions of followers. She started her career as an actress, and in an unlikely turn of events, she later became a UN ambassador. Nowadays, she is happy making funny videos while dressed as a witch. She has written, directed, and produced over 3,000 comedic videos on Instagram.
17. Zach King
Zach King is an author of digital content with an audience of more than 24 million followers. He is a movie director by trade, famous for his magic tricks. He runs King Studio, a company that frequently partners with the likes of Disney, Sony, Apple, Coca-Cola, and Nike. He is an avid fan of short-form content, and he often gives advice to newbie movie directors.
18. Liza Koshy
Liza Koshy is an actress, comedian, and TV star from the US. She started her career on Vine back in 2013, later transitioning to YouTube. Her Instagram account has almost 2,000 posts and 20 million followers. Her posts are part humorous, part heartwarming, as she likes to make her followers smile. She has won four Streamy Awards, a Kids Choice Award, and multiple Teen Choice Awards.
19. James Charles
James Charles is a famous makeup artist and model who has the honor of being the first man to be on the official cover of Cover Girl Magazine. His content is all about sharing original makeup ideas, and he has amassed more than 24 million followers on Instagram. He is sometimes remembered for his conflict with Tati Westbrook regarding his gay and transgender experiences.
20. Caspar Lee
According to Caspar Lee, his mission as a content creator is to create stuff with good people. He rose to fame on YouTube by hosting celebrity interviews. Some of the big names he interviewed include Ed Sheeran, Dwayne Johnson, Chris Pratt, Kevin Hart, and Anna Kendrick. Caspar is also the founder of several startup companies and was included in the Forbes Top 30 Under 30 list.
Best Content Creators on TikTok
21. Chris Grave
Chris Grave is a British makeup artist with over 400,000 TikTok followers. He became famous for his high-concept makeup work and custom fashion pieces. He often posts makeup tutorials in a series called Get Ready with Me.
22. Zai Rambles
Zai Rambles is an actress and TikTok content creator with almost 100,000 followers. She is famous for promoting inclusive, anti-racist TV shows, movies, and books. To her growing community, she is a champion of diversity and frequently offers advice on how to be more tolerant toward people who seem different.
23. Mira Almomani
Mira Almomani is a fledgling stylist and fashion influencer with over 64,000 followers on TikTok. She is known for being adventurous with her fashion choices, which often oscillate between glamorous and girly. Her channel is still growing, and she is set to become one of TikTok's best-known content creators.
24. Tabby and Chloe
Tabby and Chloe are a musical comedy duo from Brighton, UK. After a series of canceled live events, Tabby and Chloe started posting on TikTok, gaining over 220,000 followers in a short amount of time. Their videos are typically about heartbreak, exes, and similar down-to-earth topics everyone can relate to.
25. Andrea Cheong
Andrea Cheong is another TikTok fashion content creator whose career is on the upswing. However, in contrast to most other fashion influencers on TikTok, Andrea focuses on sustainable fashion. Her Mindful Monday Method helps her followers discover the best sustainable shopping deals.
26. Ella Willis
Ella is a well-known name on TikTok's LGBTQ+ scene. She talks about topics such as gender, sexuality, psychology, social justice, autism, trans fashion, and music. She has a knack for explaining complex issues in an easy-to-understand way. Her channel is on the rise, with almost 160,000 followers.
27. Nina Tame
Nina is a counselor and disability mentor by trade. Her TikTok content is all about raising awareness and breaking down the stigma surrounding disability. Her channel is not the largest, but her message is starting to resonate with more and more TikTok users.
28. Melissa's Wardrobe
Melissa is a celebrity fashion stylist, interior decorator, and fashion and lifestyle blogger. She has over 100,000 followers on TikTok, and it's easy to see why. She covers a wide range of topics, her videos are flawless in terms of production, and she comes off as a down-to-earth person.
29. Daily Freckles
Daily Freckles (real name Joshua P. Moore) is from Birmingham, UK, and most people know him as one of TikTok's premier male fashion influencers. He is dedicated to making fashion more gender-neutral and his mottos are inclusivity and kindness.
30. Rebecca Molloy
Dublin-based Rebecca Molloy has one of the faster-growing TikTok channels dedicated to fashion, makeup, and lifestyle content. Her makeup choices can be pretty extravagant, even occasionally verging on cosplay.
Conclusion
That concludes our list of the most popular content creators on YouTube, Instagram, and TikTok. The content creator scene is as big and diverse as it ever was, offering something for everyone. If you want to start your career as a content creator, try emulating what these guys and gals are doing, and you will be well on your way toward success.
---

Glimpse makes it easy for you to sell access to your Minecraft, Steam, Terraria, Rust, 7 Days to Die, Starbound, and most other gaming servers. Using our esports platform, you can connect your server directly to the platform and enable access to it within a sponsorship level.
Sell access to your server within sponsorships
Whitelist specific users for your gaming server
Use webhooks to connect your server in several simple clicks
Glimpse's monetization system charges 0% commission so you get 100% of your earnings
---