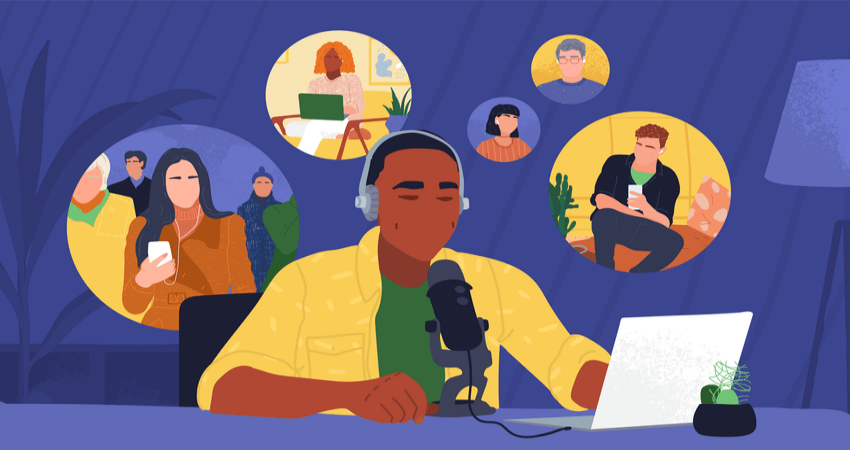 How to Grow Your Podcast Audience
Growing your audience is an important goal for podcasters or content creators in general.
The more listeners you have, the easier it is to accomplish your podcasting aims such as earning money, establishing authority, raising awareness around a topic, or even just earning fame as a podcaster.
So, let's get started by looking at a list of some of the methods you can use.
15 Methods for Growing Your Podcast Audience
There are many ways to attract listeners, from simple methods like inviting people to follow you, to complex strategies such as optimizing your content descriptions for search engines. The methods you use, and their level of effectiveness depend on factors like:
your goals
your budget and other resources
your content niche and format
your intended audience
We have arranged this list in no particular order. Most of these methods don't require you to spend any money. So, the best way to find out what works for you is to try out a couple, measure the results, and see which one managed to attract the most listeners.
1. Be Clear About Your Podcasting Goals
People podcast for different reasons. Some are in it for the money, others like the attention that comes with being a famous internet personality, and some even do it for the love of podcasting. Your motivation for podcasting influences the way you grow your audience.
For example, if you're podcasting as a hobby in your spare time, you have no reason to pay for advertising. By contrast, if you're targeting a large audience as a part of a sponsorship deal, you won't get a lot of mileage from posting on forums.
Outline your goals in a document and use it as a reminder when deciding which method to use.
2. Understand Your Audience
People also listen to podcasts for different reasons. Some are there for the entertainment, others do it to hear about industry news, and some just like to hear voices in the background while doing housework. Your podcast appeals to some of these groups, but not others. This makes trying to grow your audience by appealing to the latter a futile task.
A better strategy would be to first try and understand the audience. For example, imagine you're making a podcast about video games. If you see your listens go up on SoundCloud on episodes that cover a certain game or game genre, take that as a hint about what your audience prefers.
The key to understanding your audience is to analyze your content from different perspectives. Always consider who is listening to your podcast and why.
---
NFTs are extremely popular in various online communities. Learn more about NFTs and gaming.
---
3. Work on Your Reputation
Your reputation can be a powerful tool for attracting new listeners. Reputation helps audiences associate certain topics with your name. This means your name will come up more often in conversations, which will generate interest for your content, resulting in shares and mentions online.
You can build your reputation in many ways. For instance, you can become an authority on a topic by making well-researched content that shows off your knowledge. Another way to build reputation is by having provocative opinions and defending them in public. Reputation can also come from your achievements outside of podcasting, such as being an esports veteran.
However, if you choose to build your reputation, be consistent about, and work your strengths. You're not likely to build a reputation as an esports player if you're podcasting about sports fishing, for example.
4. Maintain a Broadcast Schedule
Building listenership online is not unlike building viewership in television. Your goal is to keep the audience hooked to your content, so it becomes a part of their daily routine. It boils down to the same thing: releasing content on a regular schedule.
Maintaining a release schedule is easier in podcasting than in other forms of content creation. This is because recording a podcast usually takes less work than making video from scratch. Podcasters often maintain a daily schedule, which is hard to accomplish if you're making fully produced videos.
When you release your content during the day, week, or month is less important – people will ultimately listen to your content when they feel most comfortable. What matters more is to commit to producing content on a regular basis.
5. Build a Website
Building a website is one of the easiest ways to expand your audience. You can customize your website to fit with your image as a podcaster while giving listeners a convenient way to access your content. But more importantly, your website can also be optimized to generate new listeners.
For instance, you can make your website easier to find for search engines through SEO. This involves using keywords that are popular among your audience, so they are more likely to receive your website as a search engine result.
Another way to leverage your website for audience growth is to provide exclusive features such as an archive of your old content or a forum, or additional content in the form of blog articles. Finally, use your website to share links to your social media profiles to help visitors share your content further.
---
Take a look at the best gaming podcasts you should be listening to!
---
6. Promote Your Podcast on Social Media
Social media is the fastest channel for sharing content online. This makes social media a powerful tool for acquiring new podcast listeners. You can use social media to run ads, optimize content for search, or communicate directly with listeners and spread your podcast through word of mouth.
Another reason to use social media is the fact that you broadcast your podcast through their built-in content streaming and hosting tools. For example, you can use Facebook Live to stream your podcast live (either regularly or as a one-off event) to generate likes and shares.
Social media is also a great place to learn more about your audience and the kind of content they like. This will help you discover new audience niches, or find overlap between your audience and other audiences.
7. Ask for Shout-outs From Influencers
Sometimes the best way to promote your podcast is to have influential people put in a good word for you. You probably already know a couple of influencers in your content niche, so it is only a matter of finding someone with a common interest willing to give you a shout-out.
The best way to receive a shout-out is to give one out for free. Find a podcast that covers a similar topic to yours, and give a couple of episodes a listen. If you come across a piece of information that would be valuable to your audience, or an opinion that matches yours, give a shout-out to the creator. Then, reach out to the creator in question, provide a link to the episode where you've mentioned them, and ask if they could do the same in return.
You can also pay influencers to spread the word about your podcast, but this kind of approach can be risky because the audience is sensitive in discerning between a genuine recommendation and a sponsored one.
8. Share Your Podcast to Multiple Platforms
The more platforms you have hosting your content, the more listeners you'll have, it's as simple as that. Even better, it costs you nothing to have your content available on as many platforms as possible, all you have to do is create an account on each.
SoundCloud is the obvious choice when it comes to podcasting. In addition to hosting your audio, SoundCloud provides options for promoting and monetizing your content. YouTube is another obvious choice with similar benefits, with the caveat that your podcast will perform better if it has video.
In addition to content platforms, you can list your podcast-on-podcast directories and aggregators. These are websites and services which organize and classify podcasts according to genre, topic, and other categories, making it easier for listeners to find what they like. Apple Podcasts, Spotify, and Stitcher are some of the most popular podcast aggregators.
9. Create Different Kinds of Content
Another way to acquire new followers is to use your podcast as a jumping-off point for making other kinds of content. This will help you branch out to other content platforms and tap into new audiences.
For example, you can add a video component to your podcast. Record yourself while you podcast, or stream the contents of your screen (hint: playing video games in the background while you talk is great for long-form podcasting). The audience will empathize with you for showing your face online, and the extra content will make them more engaged. Upload your video podcast to YouTube, or stream it on Twitch or Glimpse.
10. Do Podcast Crossovers
Another way to grow your podcast audience is to look for opportunities for cross-over content with other podcasters. This is one of the most common ways to enlarge your audience in an organic way.
The key to doing crossovers is to network with other podcasters. Look for other popular podcasts in your niche, and try to find a topic where you feel you can contribute with your knowledge, opinions, or personality. Then reach out to your fellow podcasters and offer to host them on your show, in exchange for them having you over as well.
11. Invite Listeners to Like, Share, Subscribe, and Comment
This is not so much a strategy as much as it is common podcasting knowledge. Even long-time fans of your content will forget that the online reputation economy is based on likes, shares, comments, and subscriptions, and that each of these interactions count. To remind them and new listeners alike, always invite your audience to like, share, subscribe, and leave comments on your content.
12. Invite Listeners to Check Out Your Older Content
Another piece of common podcasting knowledge is to remind listeners where they can find your old content at every opportunity. The reason you want to do this is because listeners will come across your content following different paths. Some might do it through a recommendation, others through a search engine, others yet by browsing a podcast aggregator.
To see why this is important, think of a listener that was given a link to the latest episode of your podcast without any further information. The new listeners won't have a clue about the rest of your content, and they might think that the episode represents your content as a whole. If it's about a topic they're not interested in, they likely won't tune in next time. But if you remind them that you cover different topics in your other content, they can be persuaded to stick around and listen.
13. Cover Relevant Events
It is always good to remind listeners about the fact that your podcast is grounded in reality. And one way to do this is to cover newsworthy events. That establishes you as a relevant source of information on a particular topic.
When covering organized events, always be sure to mention your stake in the matter. If you're appearing at an event personally, be sure to mention it to listeners to establish your credibility as a news source. If you're involved in organizing the event, be sure to mention that as well. Finally, fact-check what you're talking about if you're covering an event you're not attending in person.
14. Entice New Listeners with Contest and Giveaways
Sometimes the best way to entice new listeners to follow you is to give them something of value in addition to your podcast. A simple freebie can often buy you a listener for the long-term, if you play your cards right.
Contest and giveaways are the two most commonly used methods to hand out gifts to listeners. To make effective use of giveaways, be sure the odds of winning are distributed evenly across all listeners. As for contests, a neat trick is to ask users to share your podcast to participate.
As for what to give away, it's best to stick with digital goods. A free subscription for an audiobook service is common practice. Other options include digital items in games, software subscriptions, discount coupons for online stores.
15. Track and Analyze Your Podcast Statistics
The last thing to consider when talking about ways to grow your audience is analytics. Analytics is a way to assign hard numbers to your podcast performance, including how many people are listening. Analytics helps you correlate these numbers, giving you deeper insight into the behavior of the audience.
Use analytics on your website to track:
How listeners interact with your content on the streaming platform (how many listens it has, how its performing compared to content from other creators).
The success of your social media profiles (tracking how much your content gets shared and liked)
How your website is performing in terms of SEO (demographics and traffic numbers).
Conclusion
We've only scratched the surface of what's out there in terms of ways to acquire more podcast listeners, but we hope that the ones we've described have given you an idea about what works and what doesn't.
Give these methods a try, and you're bound to find a couple that work for your podcast.