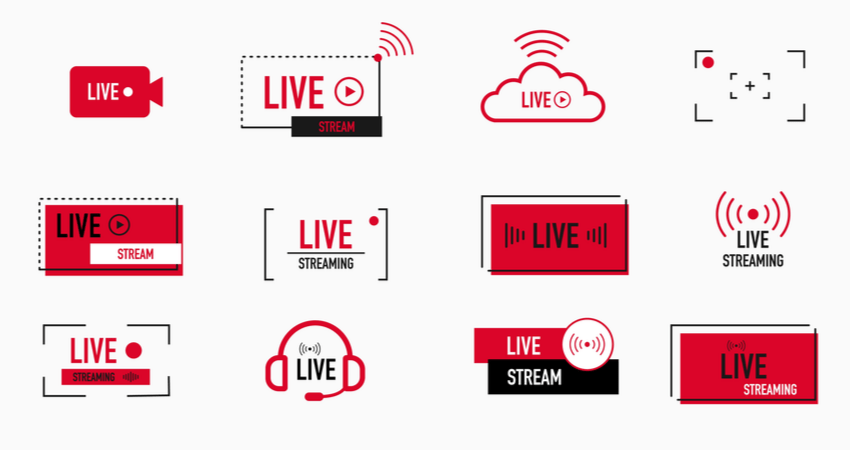 Best Live Streaming Software and Tools
The most essential piece of software in your toolbox as a video content creator is streaming software.
All streaming tools allow you to stream video to popular platforms such as Twitch, YouTube, Facebook Live, Mixer, and others. But the devil is in the details, and each tool offers some extra feature or advantage to content creators to suit their specific needs.
To help you understand what's available on the streaming software market, and how to choose an app that best suits your needs (and your budget), scroll down and check out our list of best live streaming tools for 2021.
Live Streaming Software – Things to Consider
If you're just getting started as a content creator, you'll probably want to use something basic to learn how streaming works. Conversely, if you already have some experience under your belt as a content creator, you can get a lot of mileage out of professional software with more advanced features.
There are several factors to consider when deciding which streaming tool to use. We can group these factors into 4 categories.
First, there are technical factors such as:
Operating system (Windows, MacOS, Linux, web-browser).
CPU and GPU usage.
Support for different capture devices and sources (cameras, microphones, TVs, game consoles, video files).
Support for different encoding formats (AVI, MP4, H264, MPEG-2, WMV, MOV, MXF).
Then, there are feature requirements, including:
Multi-streaming (streaming to multiple platforms at once).
4K video.
Chroma key (green screen).
Remote guests.
Plugin support.
The pricing model is often the most important factor, and it comes in varieties including:
Free.
Freemium (limited feature set for the free version, additional features for a price).
Subscription-based.
Usage-based.
One-time fee.
Finally, there is customer support to consider, with most software falling into one of the following categories:
Community guides and support.
Free customer support upon product purchase.
Premium support for an additional fee.
In addition to these factors, as content creator you will also have your own unique requirements depending on what you're trying to accomplish.
Best Live Streaming Software
There are many streaming tools on the market, each with its own unique advantages and disadvantages. Here are our top 9 pics:
| | | | | | | | | | |
| --- | --- | --- | --- | --- | --- | --- | --- | --- | --- |
| | OBS Studio | XSplit | vMix | Wirecast | Streamlabs OBS | Lightstream | Nvidia Shadowplay | VidBlaster X | Dacast |
| Platform | Windows, Linux, Mac | Windows | Windows | Windows, Mac | Windows | Browser-based | Windows | Windows | Windows, Mac |
| Best for | General users | Game streamers | Teams and professional content creators | Teams and professional content creators | Game streamers | General users | Game streamers | General users | General users |
| Standout feature | Extensive plugin support | Friendly user interface | High-end features | Stock media library | Optimized for game streaming | Available on all devices | Light CPU usage | Highly customizable | Content hosting |
| Main drawback | The UI leaves something to be desired | Watermarks and ads in the free version | Pay to unlock essential features | Expensive | Still in beta | Limited features and customization | Limited to Nvidia hardware | No unique selling point | Streaming is a secondary feature |
| Price | Free | $24.95 (3 month subscription) | $60 (Basic) HD) | $599 (Studio) | Free | $7/month (Gamer plan) | Free | $9/year (Home edition) | $39/month (Starter edition) |
1. OBS Studio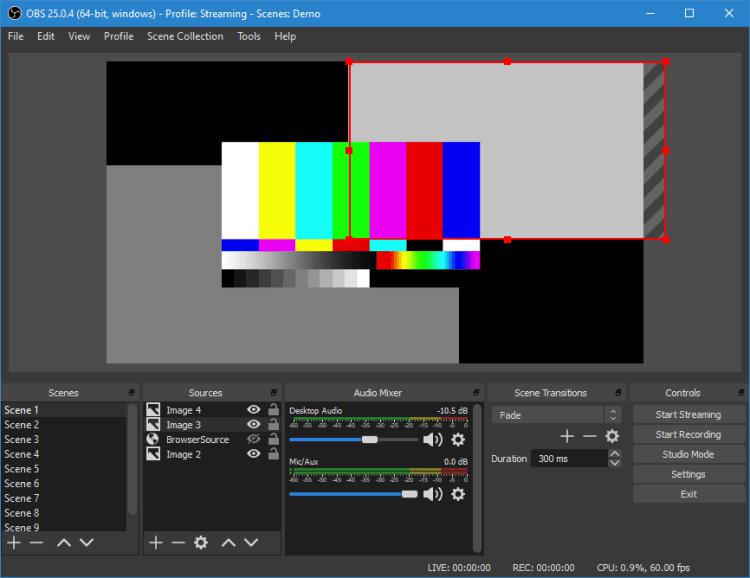 OBS Studio is the tool of choice for content creators looking for a free, feature-rich livestreaming solution. It supports Windows, Mac, and Linux, making it unique among other, platform-exclusive tools.
OBS Studio has an extensive feature-list. Highlights include multi-streaming, 4K video encoding, real-time mixing, transitions, overlays, and many more. If you need additional features, OBS Studio supports community-made plugins to extend its functionality even further. This makes OBS Studio ideal for streaming all kinds of content, including videogames, music, live events, webinars, or any combination of the above.
OBS Studio has light CPU usage, so you can run it easily on older PCs and laptops. It has a functional user interface, but it leaves something to be desired in terms of comfort and UX. This makes it a bit more difficult to pick up for new users. Another thing new users might struggle with are settings. There is a lot to configure up-front, but once you figure out a setup that works, you're good to go.
As a community-driven project, OBS Studio has no official support channel, but community-made support content makes up for it.
The price tag of free makes OBS ideal for content creators looking to get started with livestreaming. Professional users on the other hand will enjoy the wealth of available features, giving them full control over their content production.
| Pros | Cons |
| --- | --- |
| free | lacking UI |
| cross-platform | no official support channel |
| low CPU usage | |
| feature-rich | |
---
If you are new to streaming, you should also learn about Adaptive Bitrate Streaming and HLS Streaming Protocol.
---
2. XSplit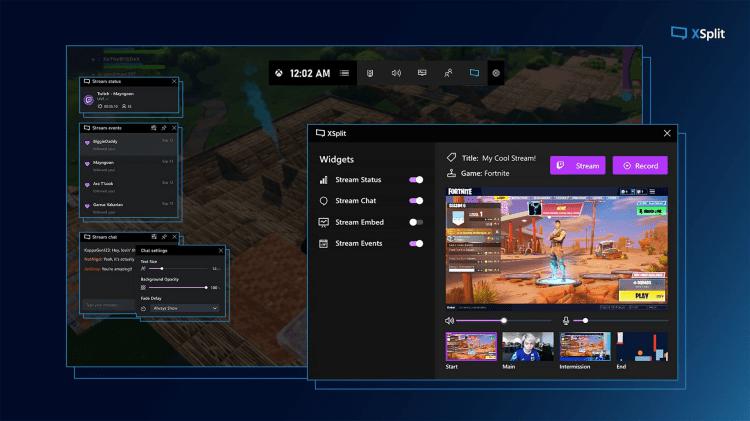 XSplit offers content creators two versions of its livestreaming tool – the premium XSplit Broadcaster, and the lightweight XSplit Gamecaster. Both versions are exclusive to Windows, and they're both geared primarily towards video game content creators.
XSplit supports all popular capture cards, web cameras, and software video sources. It encodes video up to 4k60fps, albeit only in the premium Broadcaster version. In the Gamecaster version, videos above 720p30fps are watermarked.
What sets XSplit apart from competitors is its user-friendly design. The interface is intuitive and easy to use, and you can start livestreaming to Twitch, YouTube, Facebook, or Mixer with only a few keypresses. Editing and mixing is done via convenient drag and drop interface. XSplit also offers full technical support, adding further to the positive user experience.
With that being said, XSplit has a number of downsides that prevent it from taking the top spot in our list. For one, you have to pay for the premium version to unlock features such as chroma key, in-game Twitch chat, and custom logos. The free Gamecaster version also has ads, which reduce the quality of the user experience. Finally, some users have reported that XSplit has high CPU usage, which makes it a poor choice for content creators with older PC hardware.
XSplit Broadcaster offers several subscription tiers, ranging from $24.95 for a 3-month license, to the $199 lifetime license.
| Pros | Cons |
| --- | --- |
| user-friendly interface | watermarks on 720p+ and 30fps+ video |
| good customer support | limited output formats (.mp4 and .flv) |
| works out of the box | windows only |
| | ads in the free version |
---
You should also give our Xsplit Broadcaster Vs. Gamecaster comparison article a read to learn more about these two streaming tools.
---
3. VMix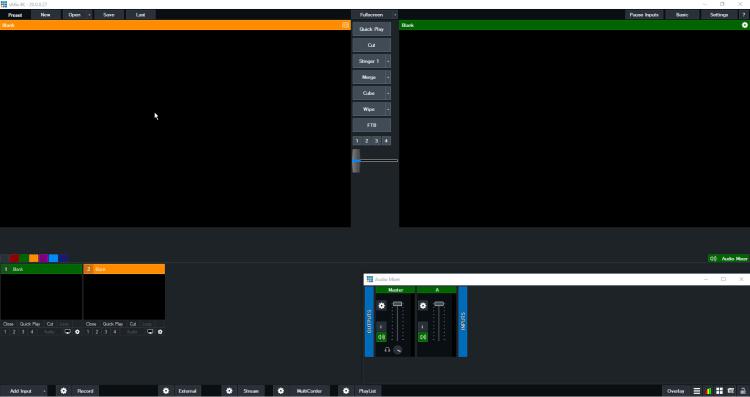 VMix is a professional streaming and video production tool aimed at experienced content creators and content production teams. It is Windows-exclusive, but for users looking for a professional-grade tool it might be worthwhile to switch to Windows just to be able to use it.
VMix supports inputs ranging from web cameras, DVDs, sound cards, video files, and even PowerPoint. It can broadcast 4k60fps video to multiple platforms at once. As for video mixing and production, VMix offers virtual sets, animated overlays, transition effects, templates, and chroma key.
VMix is unique in that it fully supports remote video and audio production. Guests can drop in over the internet to do remote mixing and production during livestreams, making it perfect for content production teams working on larger projects. The downside is that less experienced content creators will have a tough time learning how to use the software, as it is built for professional users in mind.
VMix comes in five different price tiers, including Basic (free), Basic HD ($60), HD ($350), 4K ($700), and Pro ($1200). The Basic version is too bare bones to be useful when compared to other free streaming tools, and the 4K version has the best price/feature ratio when it comes to professional use.
| Pros | Cons |
| --- | --- |
| wide range of high-end features | lackluster basic version |
| remote production and mixing | windows only |
| | difficult learning curve for beginners |
| | high price tag |
4. Wirecast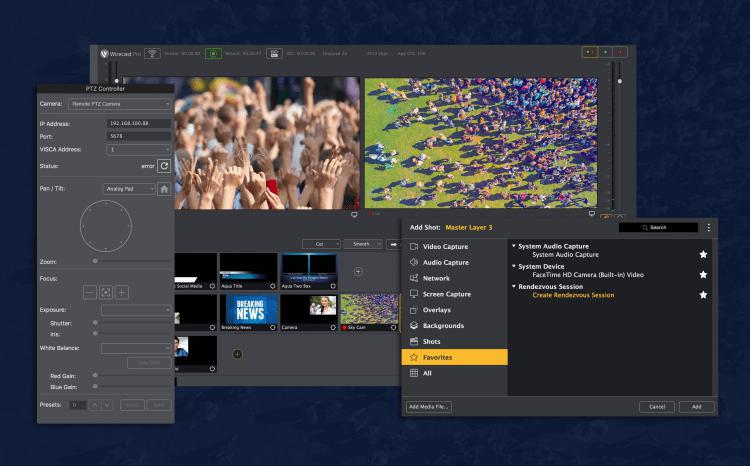 Wirecast is a high-end tool for capturing, producing, and streaming video content. It works on Windows and Mac, and iPhone.
Wirecast has an extensive feature list, comparable with professional broadcasting software. It can capture input from microphones, webcams, IP cams, and other web-connected devices via NDI. It can mix and produce multi-channel audio to create a truly immersive experience for users. The user interface is streamlined and easy to use, so content creators can utilize Wirecast's advanced features with little difficulty.
Wirecast's main selling point is a professional stock asset library with over 500 000 custom-made assets, including graphics, tiles, music, backgrounds, overlays, and more. This makes it easy to start producing content straight away.
Some users have complained that Wirecast has high system requirements, which makes it poorly suited for older PCs. Alternatively, the producers of Wirecast also sell specialized streaming hardware under the brand Wirecast Gear, which can help solve the issue.
Wirecast has a steep price. The default studio version starts at $599, and the pro version is a hefty $799. This is a high asking price for most content creators, especially when you consider that free software such as OBS comes with many of the same features.
| Pros | Cons |
| --- | --- |
| extensive stock media library | expensive |
| streamlined user interface | poorly optimized |
| high-end features | offers little in comparison to similar products |
5. Streamlabs OBS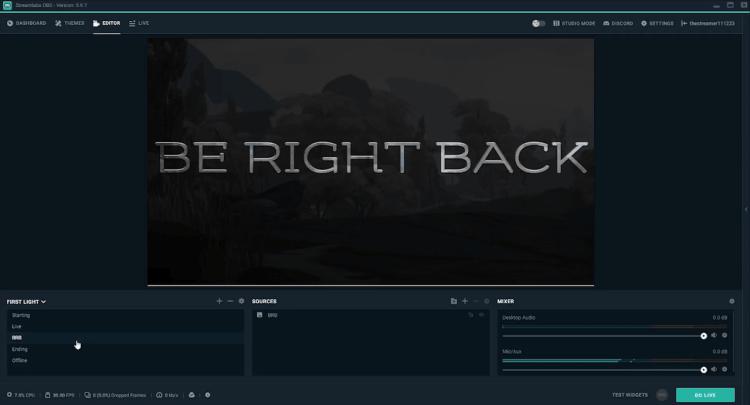 Streamlabs OBS is an upgraded version of the open-source OBS streaming platform. It is available on Windows, and it was developed primarily with game streamers in mind.
What immediately sets Streamlabs apart from its parent app is the slick user interface. The user dashboard contains all commonly used features and options, including social widgets, overlays, audio filters, etc. The default settings were chosen carefully to help users launch their stream in as few steps as possible.
The focus on gaming is also evident in game-specific encoding options for streaming. Streamlabs OBS automatically adjust encoding based on the game currently being streamed, reducing overall CPU usage and making for a smoother streaming experience.
Similar to OBS, Streamlabs is completely free to use. This makes it perfect for users which are just getting started with game streaming. More advanced users will also find a lot to like here, thanks to the wealth of available customization options, courtesy of OBS.
| Pros | Cons |
| --- | --- |
| free | Windows exclusive |
| user-friendly interface | still in beta |
| light CPU usage | |
| optimized for gaming | |
6. Lightstream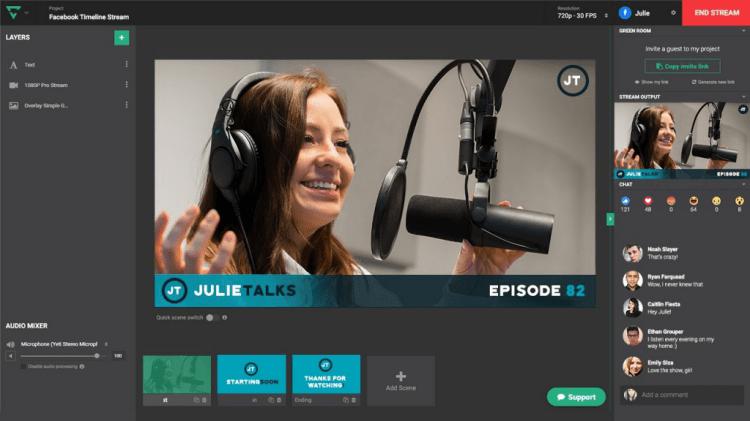 Lightstream is a cloud-based streaming platform. You can run it on any device that supports web browsers, making it the most accessible streaming tool on our list. It's ideal for creating livestream content on the fly.
Lightstream has a limited number of features in comparison to desktop streaming apps, a price to be paid for the fact that you can run it on any platform. With that being said, it does have essential ones including overlays, guest hosting, and live chat. The one standout feature it does have is auto detecting the best settings for your device and internet connection, so, you don't have to find the best setup manually.
As a cloud-based solution, all video processing is server-side on the cloud, so you don't have to worry about CPU usage. Another benefit of the cloud is that your content is backed up automatically, so you don't have to store content locally.
Lightstream comes with two subscriptions plans. The Gamer plan is aimed at console streaming, and it offers three tiers, each supporting a different output resolution (starting at $7/month for 720p30fps) and offering little to no extra features. The Creator plan also comes in three tiers (the cheapest being $20/month for 720p30fps), and it supports some advanced features such as remote guest hosting.
| Pros | Cons |
| --- | --- |
| usable from the browser | limited feature set |
| low CPU usage | no encoding options |
| intuitive user interface | low output resolution |
7. Nvidia Shadowplay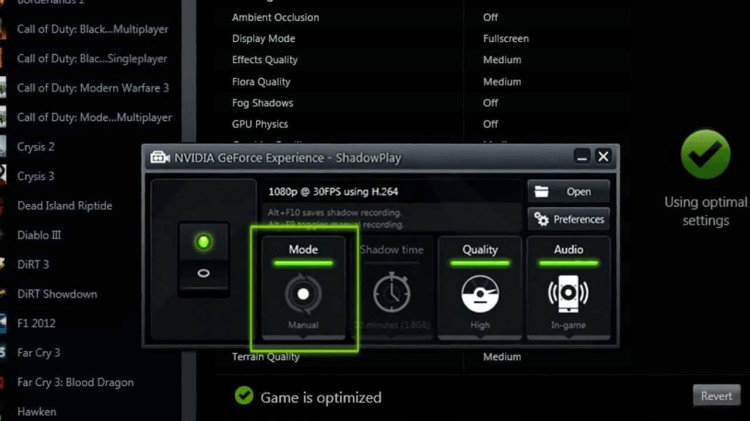 Nvidia Shadowplay is a gameplay recording tool exclusive to PCs with Nvidia graphics cards. It has limited support for streaming, although it does an adequate job if you just want to stream gameplay.
The one advantage Nvidia Shadowplay has over other streaming software is that it uses the GPU to encode video instead of the CPU, which limits its impact on your PC's performance.
Nvidia Shadowplay is a great tool for recording short segments of gameplay thanks to its built-in shortcuts. You can start or pause recording at any point without having to pause the game.
Nvidia Shadowplay is completely free, but it only works with Nvidia graphics cards, which limits its user base. It won't replace dedicated streaming software, but it's worth trying if you have a Nvidia card and want to try out streaming.
| Pros | Cons |
| --- | --- |
| low impact on PC performance | works only on Nvidia hardware |
| free | usable only for game streaming |
| | no additional features |
8. VidBlasterX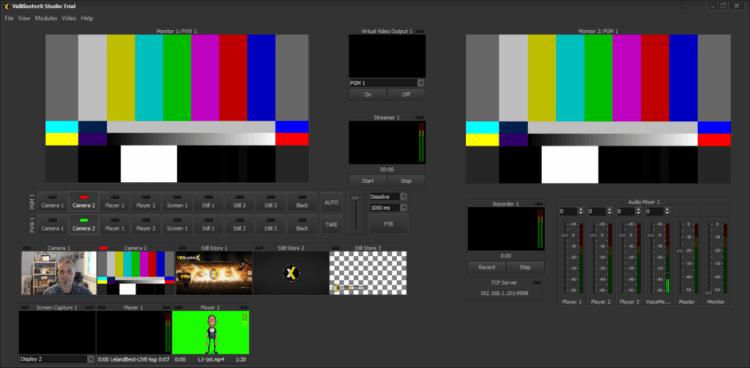 VidBlasterX is a streaming and video production tool exclusive to Windows. It markets itself as an all-around streaming solution for video content creation and streaming.
VidBlasterX has a customizable user interface, so every user can adjust it to suit their specific needs. There is something of a learning curve to the process but having a custom-tailored interface will enhance your content creation efforts down the line.
In terms of features, VidBlasterX uses a module system, where each module represents a feature that can be added to the core app. The number of modules you can use depends on your subscription tier.
VidBlasterX provides three price tiers. The Home version is $9/year for up to 7 modules, the Studio version is $99/year for up to 25 modules, and Broadcast version at $999 supports up to 100 active modules.
| Pros | Cons |
| --- | --- |
| easy to use | advanced tiers are expensive |
| plenty of features | no standout feature |
| modular design | similar to other streaming software |
9. Dacast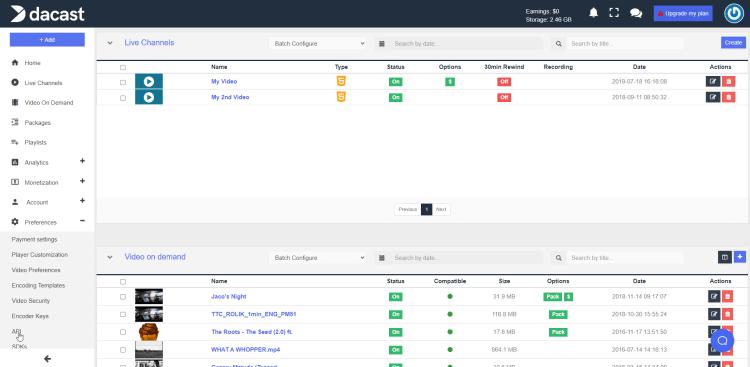 Dacast is a video hosting platform that offers some streaming capabilities. It works on Windows and Mac, and it can easily be integrated with dedicated streaming solutions such as OBS or vMix.
Dacast doesn't offer video production features, so you'll have to mix and produce your content beforehand using a different platform. Once you upload your content onto Dacast, you can stream it to other platforms.
As a streaming platform, Dacast offers video security features such as encryption and password protection, real-time analytics, monetization options, 3rd party video player support, and 24/7 customer support.
Dacast provides different subscription tiers for different users. The Starter edition is $39/month (billed annually) for 1.2TB bandwidth and 50GB of storage. You can negotiate a custom plan for higher volumes of data.
| Pros | Cons |
| --- | --- |
| video hosting | not a dedicated streaming platform |
| 24/7 support | no production or editing capabilities |
| | expensive |
How to Choose Live Streaming Software?
Start by listing the exact features and requirements you need, and see which tools fulfill most or all of them. This approach is best suited for established content creators who know exactly what they need in terms of tools and equipment.
Another approach is to think about what kind of content you want to create. If you plan on streaming gameplay while you talk in the background, you'll probably do well with a basic tool aimed at game streaming. If you want to do more complex editing, composite video and audio from different sources, or use special effects and overlays, you will probably do better with a professional grade tool.
The most secure way of choosing live streaming software is to test it yourself. You'll learn how streaming tools work in general, and you'll find out if there is a feature you need that's missing, so you can look for it in other software.
If you still feel unsure about which platform to use, here are a couple of suggestions based on the most common use-case scenarios.
| | |
| --- | --- |
| Best free app | OBS Studio |
| Best app for game streaming | Streamlabs OBS |
| Best app for professional streaming | vMix |
| Best app for general streaming | OBS Studio |
| App with the lowest system requirements | Lightstream |
| Best app for content mixing, editing and production | Wirecast |
---
We recommend you also check out our list of the best streaming platforms for gaming.
---
Conclusion
As a video content creator, your choice of streaming software will impact your career in a significant way. Paying extra for features you don't need is something you always want to avoid. Similarly, you don't want to cripple yourself by using tools which limit your creativity by locking essential features behind a paywall.
Ultimately, the best way to judged is to try out a tool, and see where it gets you, and then try out a different one.