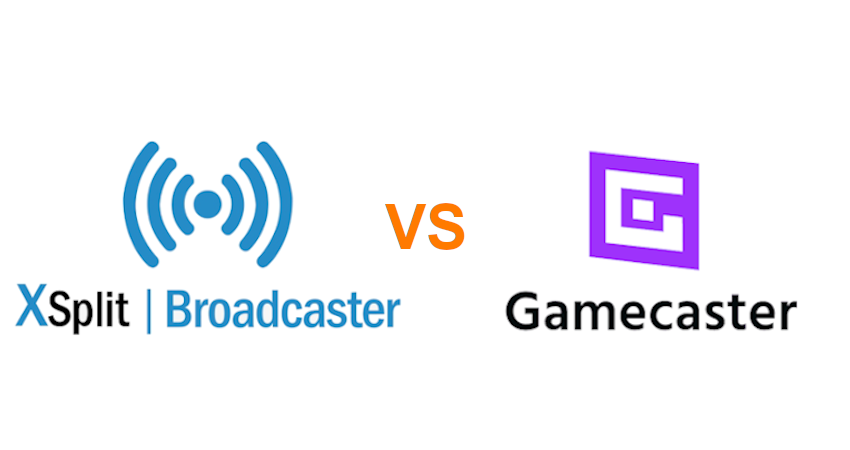 XSplit Broadcaster Vs. Gamecaster: An In-Depth Comparison
XSplit Broadcaster and Gamecaster are two of the most popular live streaming software on Windows 10. They were part of the same brand before the team behind XSplit Gamecaster went independent and started offering Gamecaster as a separate product.
We compare the two to find out which is the better streaming app for Windows.
Xsplit Broadcaster Vs. Gamecaster
Broadcaster and Gamecaster were part of the same product line, so they share many features. XSplit Broadcaster is a general-purpose streaming app that supports many different forms of live streaming. Gamecaster, on the other hand, is specialized for video game streaming and comes with features specifically designed for this purpose.
Here is a quick rundown of the main differences between the two apps.
| | Xsplit Broadcaster | Gamecaster |
| --- | --- | --- |
| Features | General streaming features | Game streaming features |
| Ease of Use | Medium to complex | Easy |
| Performance | Optimized for general use | Optimized for gaming |
| Customization | Themes, plugins, scripts, etc. | Overlays and widgets |
| Price | Freemium | Freemium |
Features
XSplit Broadcaster is an all-in-one streaming solution with an extensive list of features. It has everything you need to create a professional-looking live stream, whether you're using a laptop webcam or a multi-camera streaming setup. XSplit Broadcaster's main features include:
Multi-Streaming
Chroma Key
NVENC Encoding
Plugins and extensions support
Custom transitions
Gamecaster is a specialized app for video game streaming. It has a shorter feature list, but all are optimized for game streaming. Gamecaster's features include:
Optimized for Nvidia and AMD GPUs
Audio mixer
Social media integration
Themes, overlays, and widgets
Alert editor
Ease of Use
There are two factors that affect XSplit Broadcaster's usability. One is the sleek, responsive user interface with clearly labeled, intuitively placed buttons, menus, and displays. The other is the sheer number of options the app offers, which can be overwhelming to new users. These two factors in combination put XSplit Broadcaster somewhere on the side of medium complexity.
Gamecaster, on the other hand, is a specialized tool for game streaming, and its user interface reflects this. Every feature is streamlined to enable you to start a professional-looking game stream in minutes, with just a few button presses. In terms of usability, Gamecaster is probably the best live streaming platform for gaming currently on the market.
---
Check out our guide for installing XSplit Broadcaster.
---
Customization
XSplit Broadcaster is built with customization in mind. You can use a variety of media sources, including live recordings, videos, audio, images, and even websites. You can add custom overlays, create custom scenes, and use custom transition effects. The options menu contains countless settings you can tweak to create a polished live stream. And if that's not enough, you can use the XSPlit Plugin Store to download plugins for further customization. XSplit Broadcaster also supports macros, scripts, and extensive API integration.
Gamecaster is less generous in terms of customization, but the options at your disposal are enough for game streaming. For live streaming games, Gamecaster provides custom overlays, widgets, and alerts, which you can fine-tune to your liking. Alternatively, you can just download preexisting ones from Gamecaster's extensive library. Gamecaster also offers a unique feature for downloading copyright-free music. This is both excellent for customization, and represents a safety feature, preventing stream takedowns due to accidental copyright infringement.
---
Glimpse provides an easy way to monetize your live stream content. Create a Glimpse account and invite fans to sponsor you by donating Glimpse tokens. You get to keep each dollar earned this way – Glimpse takes 0% platform fees.
---
Performance
XSplit Broadcaster works well on most streaming setups, but things can get complicated if you start using advanced features such as multi-streaming, split mode, or projector output. Higher quality settings for video and audio can also cause lag if you don't have a powerful streaming PC. Finally, if you go overboard with custom plugins and extensions, you will quickly see your stream performance deteriorate.
By comparison, Gamecaster is he lighter tool and uses less computer resources. Game streaming is extremely resource-intensive, so Gamecaster's developers made the effort to minimize the app's resource footprint by stripping away anything unnecessary. They also made the effort to implement custom software to leverage streaming-specific hardware features present on some Nvidia and AMD GPUs. All of this means that Gamecaster provides a smooth, lag-free streaming experience on a wide variety of game streaming setups.
Price
XSplit Broadcaster utilizes a freemium pricing model. The basic version of the software is completely free but comes with certain constraints, including limited extra features, watermarks, and basic customer support. The Premium version has no such limitations and comes with multi-channel custom support. You can subscribe to premium on a monthly basis starting at $15 per month or buy a lifetime subscription for $200.
Gamecaster used to be completely free, but it recently switched to a freemium model. Similar limitations apply, including watermarks, limited access to overlays, and fewer customization options. Gamecaster does offer an affiliate program, where streamers can unlock rewards and benefits in exchange for producing quality content and promoting Gamecaster. The premium subscription for Gamecaster is $3.95 per month or $29.95 per year.
Conclusion
XSplit Broadcaster and Gamecaster are professional live streaming products with a well-earned reputation. Each occupies a different live streaming niche, and the choice between the two boils down to the kind of streaming you want to do.
XSplit Broadcaster is a general-purpose live streaming tool. It has a higher barrier in terms of ease of use, but it also offers more customization options. Gamecaster is limited to video game streaming, but does the job really well and is better optimized overall.
Ultimately, both apps offer a free version, so you can try each of them to determine which one you prefer.
---

Glimpse makes it easy for you to sell access to your Minecraft, Steam, Terraria, Rust, 7 Days to Die, Starbound, and most other gaming servers. Using our esports platform, you can connect your server directly to the platform and enable access to it within a sponsorship level.
Sell access to your server within sponsorships
Whitelist specific users for your gaming server
Use webhooks to connect your server in several simple clicks
Glimpse's monetization system charges 0% commission so you get 100% of your earnings
---