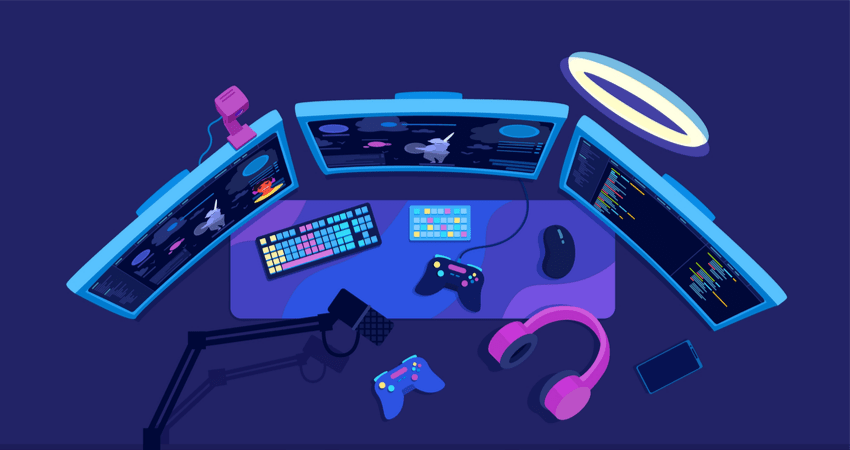 What Gear You Need for a Game Streaming Setup
Let's get the obvious out of the way first: if you have a game streaming setup that can run video games and connect to the internet, you are qualified to become a video game streamer. It can be a smartphone, a five-year-old laptop, or it can be a high-end PC with all the extra peripherals, but all that matters is that it can play the games viewers want to watch.
With that being said, if you want to create an optimal streaming experience for your fans, you'll want a dedicated game streaming setup. This can be as simple as buying a microphone to give your audio a much-needed boost or as involved as buying an entirely new PC for streaming modern AAA games in 4K.
In this guide, we will walk you through all the essential gear for streaming games, covering both the components you need to actually run games, as well as helpful extra equipment that will improve the quality of your stream.
Good Game-Streaming PC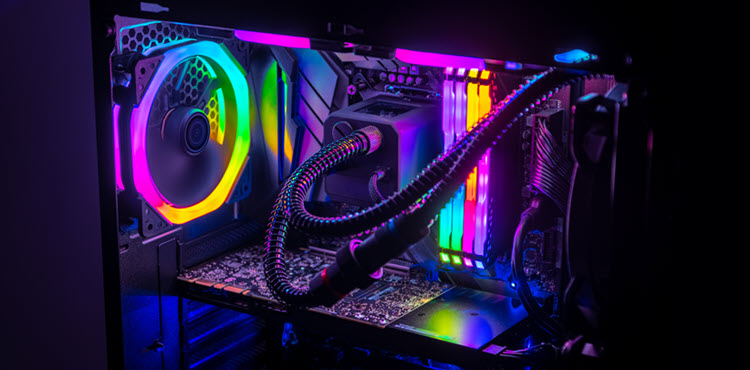 On a technical level, a game streaming setup needs to fulfill the following:
Run and play a game
Encode the gameplay footage
Upload the footage to a streaming service
What makes game streaming a hardware-intensive process is that these activities are performed simultaneously.
Your PC has to run the game at an acceptable framerate (typically over 30 FPS) and at your chosen setting level (for example 1980 × 1920 resolution on Medium graphics settings), encode the raw video footage into a format that can be transferred over the web (uncompressed footage is too big to transport easily), and upload the encoded footage to a service such as YouTube—all at once!
In order to stream effectively, your PC must be able to carry out these three tasks without drops in performance. You need:
A powerful GPU to run the game without framerate loss.
A fast CPU to run multiple tasks at once while encoding the footage.
Quality input devices and peripherals so you can record yourself while you play.
The appropriate support components (RAM, motherboard, coolers, etc.) to remove performance bottlenecks.
If you want to improve the production values of your stream even further you can use additional equipment such as:
A lighting kit to highlight things for your camera.
A green screen to create custom backgrounds for your face camera footage.
A streaming deck to manage your stream with just a few clicks.
In the remainder of this guide, we will talk about each type of equipment individually and give our recommendations for the best piece of hardware in each category.
Graphics Card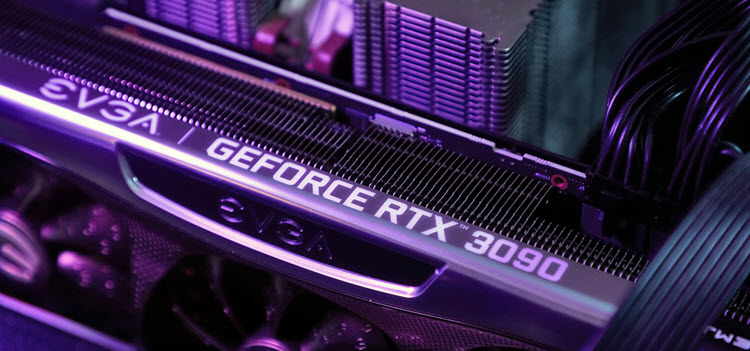 The strength of your GPU directly affects game performance. Performance in 2D games is usually not an issue for modern GPUs. But if you want to run AAA games with cutting-edge graphics at high framerates, resolutions, and levels of detail, you will need a strong GPU with lots of RAM.
Recommendations:
Budget: ASRock Phantom Gaming D Radeon RX 570
Mid-tier: MSI Gaming GeForce GTX 1660 Ti
High-end: ASUS TUF Gaming NVIDIA GeForce RTX 3080
CPU
The speed of your CPU and the number of cores directly impact both game performance and video encoding. Faster CPUs with more cores allow you to run demanding games encoded at high resolutions.
Recommendations:
Budget: Intel Core i5-10400F
Mid-tier: AMD Ryzen 5 5600X
High-end: AMD Ryzen 9 5950X
CPU Cooler
The more demanding the task is, the higher the CPU temperature will get. Because game streaming can be quite demanding on the CPU, you'll need a dedicated cooler to prevent your PC from bursting into flames. Ideally, it also won't generate too much noise in the process.
Recommendations:
Budget: Stock cooler that came with your CPU
Mid-tier: be quiet! Dark Rock 4
High-end: be quiet! Dark Rock Pro 4
RAM
Running modern games demands a lot of RAM. Encoding software also needs RAM to convert your video footage into a transport-ready format. Having more RAM will prevent potential framerate drops during streaming.
Recommendations:
Budget: Crucial Ballistix Sport LT 8GB
Mid-tier: G.SKILL Aegis 16GB
High-end: CORSAIR Vengeance RGB Pro 32GB
Motherboard
Motherboards don't directly affect game or streaming performance, but some high-end CPUs and GPUs require specific motherboard models to function. Purchasing a quality motherboard is always a good idea, as it ensures that other PC components work correctly.
Recommendations:
Budget: MSI B460M-A PRO ProSeries Motherboard
Mid-tier: ASRock X570 PRO4
High-end: GIGABYTE X570 AORUS Ultra
Streaming Peripherals
These components won't make your games run faster, but they are essential for creating a quality streaming experience for both you and your viewers.
Capture Card
A capture card is an external device used for recording gameplay video and audio. They are typically used to connect to game consoles to capture footage, but they can also be used to capture footage from one PC and then transfer it directly to another.
Capture cards have slightly lower encoding performance than a PC, but they can be a viable alternative to an expensive CPU for encoding.
Recommendations:
Budget: AVerMedia Live Gamer Extreme
Mid-tier: Elgato HD60 Pro
High-end: Blackmagic Design Intensity Pro
Monitor

Some streamers use multi-monitor setups to enhance their experience while streaming. One monitor is usually reserved for playing the game, and the other for running the chat or managing the stream.
Your secondary monitor typically doesn't have to be as high-end as the primary one (for example, you don't need a 4K monitor just for managing the stream).
Recommendations:
Budget: MSI Optix G24C
Mid-tier: LG 27GL83A-B
High-end: Acer Nitro XV273K
Microphone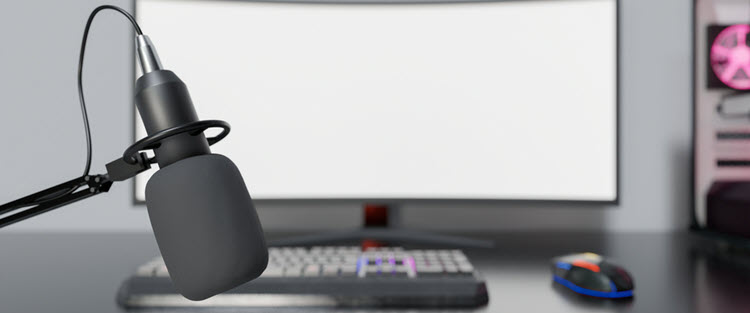 Quality audio is important for game streaming, which makes the microphone an essential piece of streaming gear. Microphones range in price and quality from cheap, $5 clip-on models to professional XLR microphones costing thousands of dollars. Chose according to your budget and your streaming needs.
Recommendations:
Budget: Zalman Zm-Mic1
Mid-tier: Blue Yeti
High-end: Audio-Technica AT2020PK
Gaming Headset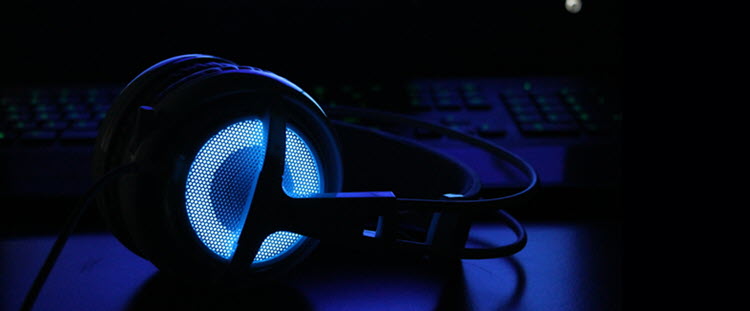 If you need to listen to in-game audio while streaming, speakers are a poor choice because the sound will bleed into your microphone. Most game streamers use gaming headsets to prevent microphone bleeding.
Recommendations:
Budget: ASRock Phantom Gaming D Radeon RX 570
Mid-tier: MSI Gaming GeForce GTX 1660 Ti
High-end: ASUS TUF Gaming NVIDIA GeForce RTX 3080
Pre-Amp
If you want to have the highest-tier audio quality for your game stream or you want to do things like hosting guest-streamers, your PC's built-in sound card won't do the job. You'll need an external audio pre-amp.
The pre-amp is a hub for connecting all your audio input and output devices (microphones, instruments, speakers, headphones, etc.). Use it for mixing audio channels, equalizing audio frequencies, boosting audio gain, and other kinds of audio production.
Recommendations:
Budget: Audiolab 6000N Play
Mid-tier: Cambridge Audio CXN
High-end: NAD C 658
Camera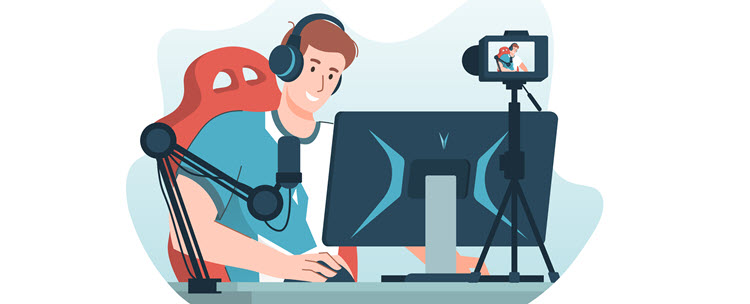 To stream yourself playing video games you can either use a web camera or a digital SLR camera set on an external mount. A web camera is usually enough for everyone but professional streamers, but if you want to cosplay on stream or record multiple people, consider getting a digital camera with a stand.
Note that you will need a suitably powerful PC to simultaneously encode and stream both HD gameplay and HD live video.
---
Note: Read our guide and learn about multi-camera livestreaming.
---
Web camera
Recommendations:
Budget: Microsoft LifeCam HD-3000
Mid-tier: Logitech C922 Pro
High-end: MEVO Start
Digital camera
Recommendations:
Budget: Sigma fp
Mid-tier: Panasonic Lumix G7
High-end: Sony A7 II
Lighting, Backdrops, and a Chair
These products are strictly non-essential, but they can improve the production value of your gaming streams. Consider buying these if you plan on becoming a professional game streamer.
Lighting Kit

To create a more studio-like environment for your game stream, you will need more than your indoor lighting. A professional lighting setup typically includes a key light, a back light, and multiple fill lights. You can purchase them separately, or as a kit.
Recommendations:
Budget: MOUNTDOG Photography Studio Softbox Lighting Kit
Mid-tier: ESDDI Lighting Kit
High-end: GVM 2 Pack LED Video Lighting Kit
Green Screen
A green screen or a backdrop is a monochrome surface used for keying out colors in digital video production. With a green screen, you change your video background to anything you want. This is useful if your streaming room is cluttered, or if you want to maintain some privacy while you record.
Recommendations:
Budget: Julius Studio Adjustable Photography Background
Mid-tier: Neewer Background Stand Support System
High-end: Emart Photo Video Studio Green Screen
Gaming Chair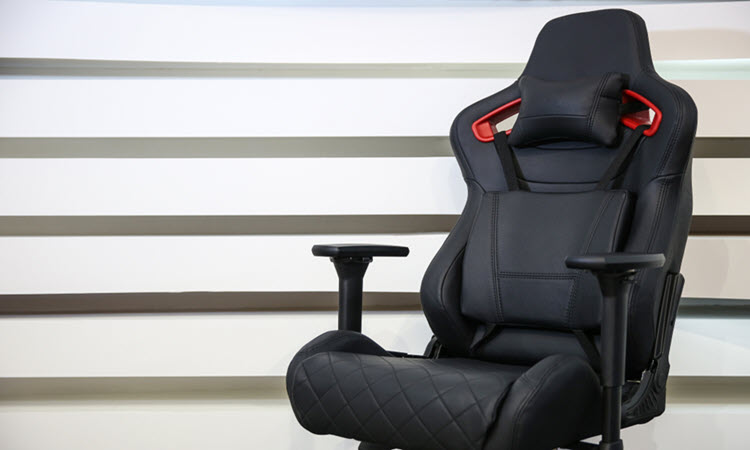 Quality-of-life improvements such as gaming chairs can make game streaming a more enjoyable experience.
A gaming chair is ergonomically designed, so you'll feel more comfortable doing long streaming sessions.
Recommendations:
Budget: RESPAWN 110 Gaming Chair
Mid-tier: Musso Gaming Chair
High-end: SOONTRANS Ergonomic Gaming Chair
Streaming Accessories
Commercial game streaming requires additional equipment that improves the quality of video production.
Elgato Streaming Deck XL
The Elgato Stream Deck is a control box that allows you to assign various actions to LCD buttons on the front of the deck. You can assign the buttons to actions such as launching a game, adjusting the lighting from a lighting kit, pausing the SLR camera, or anything else you can think of.
Blackmagic Design ATEM Mini
This is a camera streaming control kit which allows you to pull video signals from four different HDMI sources into your stream. You can switch between different video streams using live transitions, use picture-in-picture mode, create footage from multiple angles, and more.
---
If you are just starting with streaming, check out our post on Adaptive Bitrate Streaming that enables your viewers to enjoy your content more.
---
Conclusion
Each game streamer requires different gear to create their desired streaming experience.
So, before you reach for your wallet, think about what kind of game stream you want to make and try doing it with your current setup. If you or your viewers find the experience lacking, look for ways to improve it by upgrading your gear.