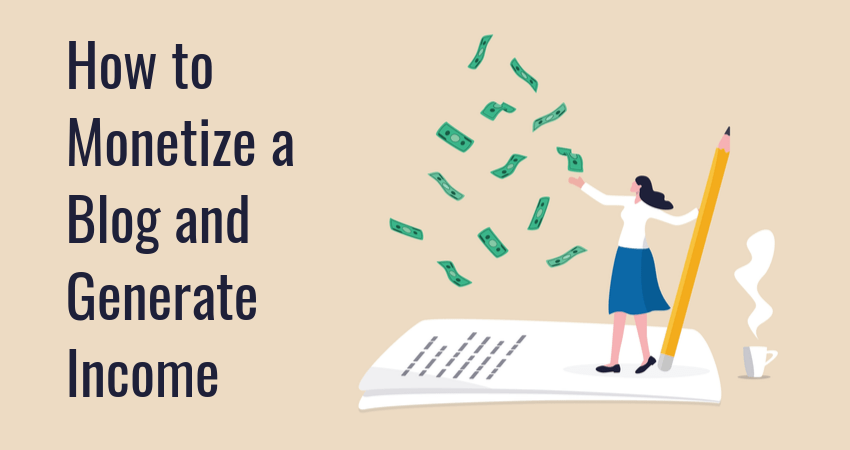 How to Monetize a Blog and Generate Income
Blogging can be an excellent source of income if you implement the right monetization strategies.
There are many such strategies available and they're usually flexible enough for bloggers from different niches to use them effectively. It is also possible to simultaneously use multiple strategies, which can make blogging quite a lucrative gig.
So without further ado, here are 10 tried and tested methods to monetize your blog and generate income.
10 Blog Monetization Strategies
Most of these strategies can be applied to any kind of blog, but some work better in particular blogging niches than others. At the end of each section, we highlight where each strategy works best.
1. Ads
Advertising is the most common way to monetize a blog. The practice dates back to the early 90s, when banner ads were first introduced. Other forms of advertising have been developed since then, including pop-up ads, floating ads, expanding ads, and trick banners.
Google holds a de facto monopoly on this kind of advertising with its Ads service, so that's what most bloggers are forced to use. The system is simple: you dedicate a portion of your blog's visual real estate to ad banners, and Google determines which ads to display based on your content and visitor preferences. For each click on the banner, you get a small commission.
The main benefit of using ads for monetization is the simplicity of the system – once you sign up for Google Ads, you don't really have to do much else. The main downside is that it can take a while before you start earning a decent income. Another negative factor is that visitors don't like to be bothered by ads.
Best for: blogs with good traffic, blogs about consumer products and services, blogs in popular niches (celebrity culture, video games, Hollywood movies, etc.).
2. Sponsored Posts
Sponsored posts are another popular method of blog monetization. They are the result of rising commercial interest in blogging since the early 2010s when private business interests saw an opportunity to make money by working with popular mainstream bloggers.
The idea behind sponsored posts is simple – the blogger publishes content with the explicit goal of promoting a particular brand in exchange for a commission. In order for sponsored content to work, it has to belong to the same niche as the rest of the content on the blog. For example, video game blogs only work with sponsored content related to video games.
The main appeal of sponsored posts as a monetization strategy is that you can get lucrative deals with industry leaders in your niche. The drawback is that you will have to compromise your editorial integrity, which can alienate your audience.
Best for: niche-specific blogs, company blogs.
3. Donations
Donations are another widely-used monetization strategy. Donations first became popular with the rise of online payment services such as PayPal, and have since grown thanks to donation-based monetization platforms such as Patreon.
The way donations work is simple. To your blog you add a donation button, which links visitors to a payment service where they specify a donation amount, provide payment details, and finalize the transaction.
The main advantage of using donations to monetize your blog is that they're flexible and non-intrusive. Visitors can choose how much they want to donate, and they're not pressured into doing so. The disadvantage of donation-based monetization is that it's often unreliable – you have no way of knowing if visitors will keep donating in the future, and how much. At least, unless you use recurring donations.
Best for: blogs with tightly-knit communities, blogs that provide valuable content (industry insights, specialized knowledge, free downloads, etc.)
---
Video is by far the most popular online media format. The rising demand for video content online means now is the right time to start thinking about video monetization. Check out our article on video monetization to learn more.
---
4. Affiliate Marketing
Affiliate marketing is another monetization strategy that relies on third-party sponsors. Amazon started the practice, and other ecommerce outlets quickly followed suit. Today, affiliate marketing is a billion-dollar industry.
Affiliate marketing works in the following way. Bloggers include special affiliate links in their content, driving traffic to product landing pages. The bloggers receive a portion of the income generated by visitors who follow these links and make purchases on Amazon or other ecommerce sites.
The main advantage of affiliate marketing is that it is relatively non-intrusive. Bloggers don't have to compromise their content by explicitly promoting affiliate link providers. They can just provide the link, and mention what it does. The drawback of affiliate marketing is that it's unreliable – visitors have to both follow the affiliate link and make a purchase before you earn your commission.
Best for: blogs with content based on products and services, blogs with large audiences.
5. Ebooks
Selling ebooks is a simple and effective blog monetization strategy. It became common practice after the first generation of bloggers from the early 2000s amassed enough content to publish it in the form of ebooks, which they sold for a fee.
This strategy assumes your content is aimed at providing something of value to readers. Guides, independent research reports, stories and other fictional works, and basically anything that doesn't fall under the label of mere opinion can be compiled into a product that's worth selling.
The benefits of selling ebooks on your blog are that they're cheap and easy to produce. The hardest part about making an ebook is writing the content. If you have already covered that part, all you have to do is add it to a design template, and you're ready to sell. The downside is that the content is already available on the blog, so regular readers won't have many reasons to purchase it separately.
Best for: blogs with informative, practical content, blogs about fiction.
6. Members-Only Content
Members-only content is a monetization strategy that is based on the concept of paywalls. It originated in online news media during the mid-2010s when various news outlets sectioned portions of their content behind a subscription fee. The strategy was meant to circumvent adblocking software, which was making a dent in the earnings of these companies. Paywalling has since spread to blogging.
The idea behind members-only content is to provide some of your blog content for free and gate off the rest behind a paywall. Visitors choose to pay a one-time fee to unlock certain posts or subscribe to gain permanent access to all members-only content.
The advantage of members-only content as a monetization method is that it gives readers a choice. They get something for free, and they can get more by paying. The temptation here is to only make fluff freely available while keeping the worthwhile stuff locked behind a paywall. In the long run, however, this risks alienating readers who might have otherwise supported the blog.
Best for: blogs with a large content library, blogs offering expert knowledge.
---
Glimpse gives content creators multiple ways to monetize their work. Sign up as a Glimpse Creator and monetize your content with Glimpse's tiered sponsorship system. You don't have to worry about fees either – Glimpse has 0% platform fees for content creators.
---
7. Online Courses
Another way to earn an income from your blog is by making and selling online courses. This strategy was initially reserved for specialized teaching companies but has since become popular among bloggers as well.
The core idea here is to transform your industry experience and expertise into a teaching tool. It is similar to turning your blog into an ebook, although you're more likely to use video as your media format. That said, if you use your blog posts as drafts for video scripts, half of the work is already done.
The reason why this monetization method works is because watching a video is more engaging than reading text, especially in a learning context. This makes videos relatively easy to sell to an audience. The downside is that making videos involves a lot of work and technical knowledge, so you'll have to invest time and money before you start seeing returns.
Best for: tech blogs, creative blogs.
8. Physical Products
Another monetization strategy that is not unique to blogs is selling physical products. Historically speaking, this is one of the earliest monetization strategies. Lots of businesses initially got into blogging in order to market and sell their products, which eventually led to the rise of ecommerce as we know it.
To sell physical products on a blog, you need to use a blogging platform with ecommerce support. Platforms such as WordPress, Wix, or Magento come with plugins and extensions for creating digital storefronts, making your job much easier. Alternatively, you can use a blog to promote products on third-party marketplaces such as Amazon, eBay, Craigslist, or Etsy.
The main benefit of selling physical products through your blog is that you're offering something extra for free, namely quality content. The downside is that the people who follow you just to read what you have to say might lose trust in your content and begin to feel it's only there for marketing purposes.
Best for: product review blogs, merchant blogs.
9. Digital Products
Selling digital products through blogs is much more common than selling physical ones. This practice goes back a long way – people were selling images, emojis, flash games, fonts, skins, software, and everything in between, way back in the early 90s. Since then the market for digital products has only grown.
Selling digital products goes naturally with blogging. If you've been blogging for a reasonable amount of time, chances are you've developed something that counts as a product. Document templates, spreadsheets, custom software, infographics, basically anything that provides utility and value to readers is probably good enough to sell.
The advantage of selling digital products on your blog is just how easy it is. You don't even need a separate storefront, just provide links to where visitors can buy and download what you're selling. The downside is that selling digital products is so common nowadays, it's hard to stand out.
Best for: tech blogs, small business blogs.
10. Coaching
If you have managed to create a large following, you can leverage your charisma and offer coaching services. This monetization strategy is relatively new but has proven to be highly effective.
The whole idea is based on social media. If you share your blogging successes on social networks, you can graduate to become an influencer in your field. This greatly boosts your authority online, which you can then take advantage of by coaching people on how to do the same.
The benefit of becoming an online coach is that helping people succeed improves your own online credentials, which in turn helps you reach even more people. The downside is that this monetization method relies more on personal qualities and less on content, so there's no guarantee that you'll be able to sway a large enough crowd to earn a living through coaching.
Best for: influencer blogs, celebrity blogs.
Which Is Better to Monetize Your Blog? Wix, WordPress, or Blogger?
Now that we've covered the main monetization strategies at your disposal let's go over the blogging platforms you can use to implement them. There are three main contenders: WordPress, Wix, and Blogger.
WordPress
WordPress is still the most popular blogging platform in the world. It has gone through many iterations, and it has the most features out of any other blogging platform. This makes it easy to implement any monetization strategy you come up with.
The pros of using WordPress are:
Free customization through themes
Easy to use
Has a free version
The cons of using WordPress are:
Limited features for extending your blog
No support for ads
WordPress can suspend your account if you violate its terms of service.
Wix
Wix is a hosted platform for building blogs and other websites. It features an easy-to-use drag and drop editor, many themes to choose from, and full customer support. It is one of the main alternatives to WordPress.
The pros of using Wix are:
Blog customization through templates and third-party plugins
No programming skills required
Quick setup time
The cons of using Wix are:
Limited monetization features with the free version
Free version comes with Wix branding and ads
Impossible to change the initial template
Blogger
Blogger is a free blogging service with a long history. It was acquired by Google in 2003, but it remains true to its core principles. It has everything you need to start a blog from scratch.
The pros of using Blogger are:
Completely free
Very easy to use
Built on Google's secure, high-speed infrastructure
The cons of using Blogger are:
Very basic, lacks many of the features present on other blogging platforms
Few themes and customization options
Google can suspend your blog at any point
Conclusion
Blogging is a great way to share your thoughts and experiences with the world at large. It is also an excellent way to earn an income, provided you use the right monetization strategies. Consider the monetization methods we have outlined here, and start getting paid for what you do best – you deserve it.
---

Glimpse makes it easy for you to sell access to your Minecraft, Steam, Terraria, Rust, 7 Days to Die, Starbound, and most other gaming servers. Using our esports platform, you can connect your server directly to the platform and enable access to it within a sponsorship level.
Sell access to your server within sponsorships
Whitelist specific users for your gaming server
Use webhooks to connect your server in several simple clicks
Glimpse's monetization system charges 0% commission so you get 100% of your earnings
---